finding my true north
they'd like to tell the story differently, like how they rescued me from the streets of los angeles but let me share with you my recollection of rescuing them, by teaching them how to love me unconditionally
I was born in 2010 and my demeanor wasn't really the fighting kind, so I was tossed in the streets. i didn't mind because i knew my destiny was something larger than that of a fighting rink. along the way I encountered kindness from some folks, and some not so keen to help. it only took a few months of begging and being a cute puppy to be wrangled up and taken to the north los angeles animal shelter. the people there named me parker, truth be told i kinda felt like clark kent! something mighty was going to unfold, I felt this
I stayed in this shelter for a small time, my out date (to end my life) was coming up quick. the day prior to that end date, a neat lady from canada came in to pick up some of my pals, she took one look at my big browns & grabbed me too and off to british columbia canada I arrived. i knew i was close to my new home, my pawrents would find me fast - cuz i sent some pawsome vibes .. in less than a week my papa along with bruno's mighty approval sniffed me up and carried me off to my new home in langley!
there she was waiting for me. my maa ♥
I landed on her lap and never have I left her side. she took one look at me, fell hard and succumbed to the kind of love that she was ready to receive. I love her so much
she rolled up her sleeves, as there was lots of work to get me healthy. first of all I was quite emaciated, they called me platypus .. my paws were bony and goofy as the platypus' duck billed flat muzzle. in a matter of days my maa added a healthy 11 lbs of weight on me! i had calluses on my legs from being tied and a weird incision that was closed with wire instead of stitches. and if that all wasn't enough, I had worms! i gotta be honest, i was a little pissed off i had to share my food with them. i was a mess
my first name 'parker', ya, that wasn't gonna fly in the bilic household. maa and papa named me bear bear to match my care bear soul and the giant mug i sported. it stuck with me pretty good! they kinda have a thing for b's!
I had a good feeling in my new home with my big sister bella (coonhound), my little big brother bruno (german short haired pointer) maa, papa & me! the five of us were gonna be just fine, I found my place in this world to give some goodness
us three amigos at the mighty fraser river by our place
lets fast forward a bit, life was turning out to be awesome in my first year but my body began showing signs of growth issues, papa says my balls were cut off way too early .. my testosterone was ripped out of my body and i didn't really have enough hormone levels to develop properly but hey, no big deal right? it was a big deal, I developed arthritis at an early age. hit my hind legs doctors suggested to maa & papa to perform surgery to help my left knee, and while it may have helped for a couple years, arthritis overwhelmed that leg again. then in no time riddled each vertebra of my spine and my shoulders would seize (we called them "episodes") long story short, I was screwed on the agility department, and the pain I endured kept us all on our toes for days. my folks tried everything, acupuncture, massage, laser, cbd oil but the best therapy for me was swimming, that was my savior for maintaining my heart and muscles happy while bearing no weight on my joints
after a couple of years at a local hydrotherapy facility, papa decided to build my own indoor Pool (go figure, what a dad!) and he equipped it with an endless pool installation! maa has been diligent in practicing mindful hydrotherapy with me. i love it so much that we swim daily, its such a positive reinforcement that recreational therapeutic hydrotherapy is good medicine for me, that we help other paws feel good too!
you gotta catch up on the article (below) about me & maa on the endless pool news - we are too cool!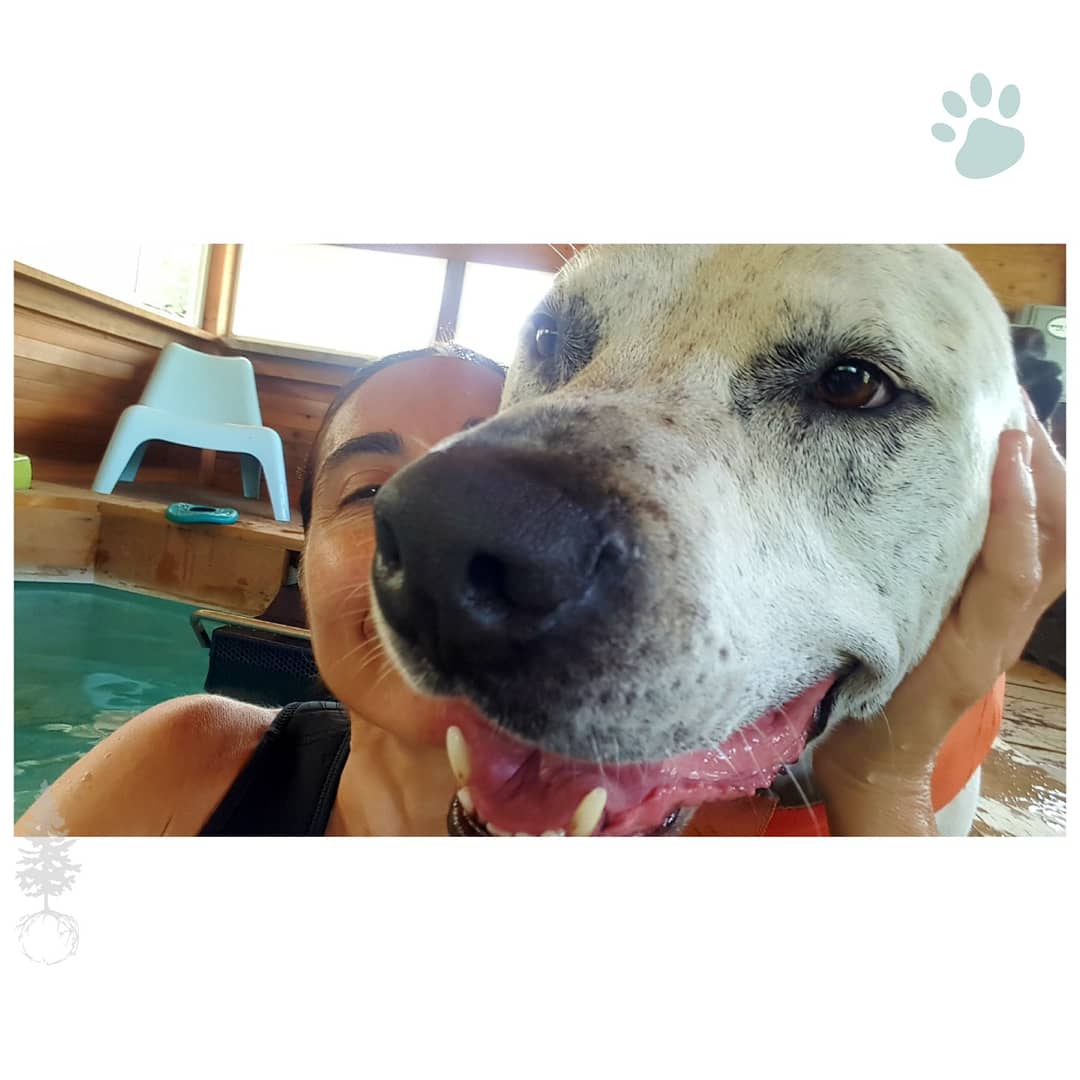 endless pools
exclusive interview
we are stoked to share this exclusive interview with frank at endless pools this summer!
super grateful to be featured!
thank you ♥ xo
gratefulness
through my journey in this world I have had challenging physical experiences, life was kinda smooth for my folks until I showed up with all my injuries, issues and tendencies. my folks have continually exhibited the highest plateau of unconditional love and support, they are the epitome of a nurturing power couple. I would even go as far as saying that my maa is at her best when care giving, she feels alive and demonstrates exactly what a momma should do and be, i wish i were human to speak and tell her as much, but i find my ways to express my gratitude. she's my soul and papa is my rock
I had the greatest big sister bella to continually look up to and provide me with ongoing feedback on being a tough guy, chasing coyotes, mindful eating and speaking to be heard. and the coolest little big brother bruno my bestest pal to play with and show me the strings on scoping out rabbits, snakes and chasing the chickens while we both slept on maa & papa's bed!
I am a lucky guy, i couldn't imagine a more soothing life than that of which I have had, its been a rough go with my health. I knew I'd find the best kind of love in this world ♥ the kind that knows how to take care of me, and me of them.
its fall 2019 and sadly I am the only one remaining in my paw-clan. while I miss bella & bruno dearly from the deepest part of my soul, it has also been an overwhelming year for me, my maa & papa but we will get through it all, together. I stick close to them continuing to be a good boy & immersing my entire self along side a happy life here at the back forty, my true north
xo bear bear
#adoptdontshop